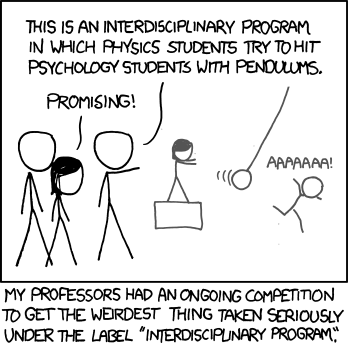 MYQGVGR3T9HX
So this comic reminded me of the Group 4 Project in IB which preaches "interdisciplinary" thought and action amongst the sciences in order to create a detailed, brilliant project which never gets assessed by any IB moderator.
Like this comic, almost anything can be considered to be a Group 4 project as long as it has aspects from all three sciences so that each group member can discuss the subject in relation to their chosen science.
And because it isn't marked (besides personal marks in the internal assessment for the sciences), many students don't really try hard and create absurd projects like the one in the comic.
Oh well.
Source: xkcd
P.S.: If you want to check out what my group did for the Group 4 Project, go to this Solar Flares article on Intense Cogitation.